Follow our blog to get the latest updates straight from our apprentices about the work they do everyday.
Apprenticeship Profile: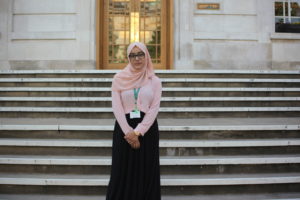 Name: Humairaa Mulla
Apprenticeship Title: Software Developer
Directorate/Team: ICT
Background:
I completed A-level Maths, ICT and Health and Social Care in 2018.  I then did a placement on the Hackney 100 scheme during the summer holidays with the Strategic Property Services department which was an amazing experience as I got to learn how to use software such as Cedar. Cedar is an application used to track residents yearly rent and allow us to send tenants invoice via email or post. I was also required to talk to residents over the phone to ensure that their rent accounts were up to date. This helped build my communication and confidence skills. I then decided to apply for the software developer apprenticeship and after the interview the team welcomed me to a new world which is challenging and exciting at the same time. 
Day to day:
I am currently working on LanDesk Calls assigned to my team, LanDesk incidents and requests raised by users in the LBH, these calls are solved through user-visit or telephone conversation. For example, if the user is facing a problem with one of the HR e-forms, I then call the user to ensure they are accessing the form in the correct manner, this can be done through remote access or visiting the user and providing the help required.
I have also worked on a HR Project which involved making improvements to the form. The form I am currently making improvements to is a Post and Payroll form. This involves complex calculation changes and ensuring the form works as required by the user. I am currently working on this form on the development environment, this allows me to play around with the Javascript Code and also ensure the form works as required before making it live. When I make a change on the development environment, I ask various users to test the form and ensure it is correct, this helps to keep the user happy whilst also making it clear to me what has been completed and what needs to be completed.  
In order to plan my tasks, I use my calendar as well as the Trello board. In Trello I have different tasks which I need to complete and once they are complete I move it along to testing and if it has been completed correctly then the user would move it to done. I have added a picture below to show an example of one of my trello board: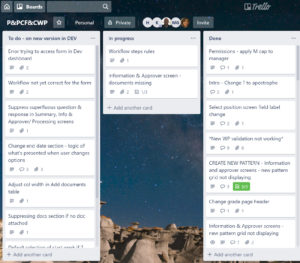 College Time:
I attend work for eight consecutive weeks, then go to college for one week, during my time at college I am taught one module and also get time to work on the coursework/exam for the module. This is very helpful for me as I prefer to work on my coursework whilst at college as I can get the help I need from the lecturers. I can also book time with lectures during my time at work to get help on my coursework, this allows me to use my time wisely and ensure that I get my coursework submitted and meet the project deadlines on time. 
What is the best thing about the apprenticeship?
I really like this apprenticeship as I am able to learn modules at college and then apply the knowledge to one of my projects at work. I really enjoy the fact that once I finish my apprenticeship I will receive qualifications and also get the experience I need for this job. This apprenticeship has also helped to improve my technical skills by teaching others.
Next Steps:
Once my apprenticeship ends I am planning on getting a full time job in one of the ICT departments, I first want to explore the other departments as I have not experienced those departments, I will then decide which job I want to apply for and hopefully get a full time job within the Council.