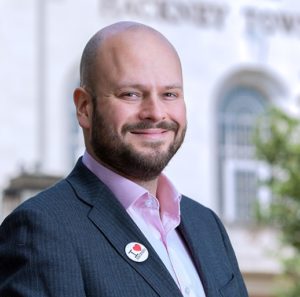 At Hackney, we have an elected Mayor and a diverse set of elected Members that are ambitious for our borough and its residents.
The Council has adopted a Strategic Plan that sets out what we aim to achieve over the next three years; it is framed by the elected Mayor's priorities for the borough and the manifesto commitments of his administration.
Hackney aspires to be one the best Councils in the country; to achieve that, we know we need to support our elected Members and political leadership to a high standard, and in a way that respects the democratic contract at the heart of every local authority. 
Supporting our Members
The Council has created a new Mayor, Cabinet & Civic Support and Member Casework service that brings together support to the Mayor & Cabinet, the Speaker and casework support to all Councillors in one service. The service will be responsible for championing the role of Members across the organisation, ensuring a high quality of casework support to councillors across all parties, and wider support to the political and civic leadership of the Council.
The structure chart of the new service can be found here, and consists of three teams: Mayor & Cabinet Office, Civic Services, and Member Casework. Over the coming weeks we will be advertising a range of opportunities to work in the Mayor & Cabinet Office and Member Casework teams. For more information, see below.
Mayor & Cabinet Office
The Mayor & Cabinet Office provides support to the political leadership of the organisation. We are seeking highly motivated individuals with strong organisational and communication skills to help drive the delivery of the Mayor's priorities and provide strategic and operational support to the Mayor & Cabinet. We are recruiting to five vacancies:
Member Casework team
Responding to casework enquiries and advocating on behalf of their constituents with Council services is one of the most important responsibilities of an elected Member. Following a review, the Council is creating a new team to deliver a unified casework service to the elected Mayor, all Councillors and Hackney MPs, working closely with departments from across the Council to drive up the quality and timeliness of responses and to ensure a resident focused approach. We are seeking high performing, customer focused individuals with strong communication and problem solving skills to deliver an effective casework service. We are recruiting to four vacancies:
Useful information about Hackney
Equality Plan (consultation draft)