Staff who carry out the day-to-day work of the council are not elected and are not party political. The person who is in overall charge of these staff is the Chief Executive, Tim Shields. Tim is responsible for leading all of Hackney Council's services and the Council's management team. Together, they make sure the Mayor's priorities are met. Tim is also Chief Returning Officer for the borough's elections.
The Council's management – at a glance
Mayor of Hackney – Philip Glanville
Chief Executive – Tim Shields
Find out more about the current Speaker of the Council
Council departments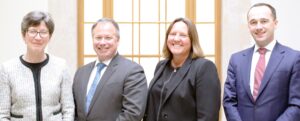 The Council is made up of 4 areas:
Chief Executive's – Led by Tim Shields, Chief Executive
Children, Adults and Community Health – Led by Anne Canning, Group Director
Finance and Corporate Resources – Led by Ian Williams, Group Director
Neighbourhoods and Housing – Led by Kim Wright, Group Director
We are very happy to report that the majority of staff speak highly of the Council and are satisfied in their role. They have a good understanding of change and feel well communicate with, and 72% are proud to work for the Council.  
Find out more about our staff policies, staff benefits and equality work.