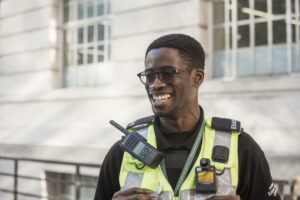 About 26% of our staff enjoy the benefits of living and working in Hackney. One thing they often say is that they are so proud to serve the borough they live in, they couldn't imagine working anywhere else.
Not only do we offer roles across hundreds of professions and trades – we offer generous pay and conditions, and value diversity.
We've also got a prime location – on your doorstep! It only takes around 40 minutes to walk to the Hackney Central campus from the furthest part of the borough, and we are well served by bus and Overground networks.
We welcome local people who are passionate about making Hackney a better place to live, whatever they do for a living.
We also run a number of employment programmes and services for Hackney residents:
Hackney Works is our free Employment service for Hackney residents: whether you're looking for your first job, you want to progress further, or you've been out of work for a while, our advisors can help you to achieve your goals.
Our Supported Employment team provide free support for residents with a disability or health condition to find work
Our Hackney 100 work experience programme and our award-winning Apprenticeship Programme are open to Hackney residents, people educated in Hackney, and people who have used Hackney's Leaving Care services.