Join an award-winning programme, and 'earn while you learn' with an apprenticeship at Hackney Council.
An apprenticeship is a full time job with 20% of your time spent studying. Apprenticeships last from one to four years, depending on the qualification you're taking.
There are more than 100 apprentices at the Council. They work in lots of different areas, such as Housing, ICT, Trades, Business Administration, Youth Work, and Finance. Our apprenticeships are mainly at Levels 2, 3 and 4.
All of our apprentices are Hackney residents OR attended a Hackney school/college OR are care leavers who have used Hackney's Leaving Care services
All our apprentices earn at least the London Living Wage (£10.55 per hour)
We were named the Top Public Sector Employer at the School Leaver Awards 2018 and 2019, and Large Employer of the Year for London at the National Apprenticeship Awards 2019.
We have three main recruitment windows each year. All our apprenticeships are listed on the Hackney Works Opportunities page. You can also sign up for the Hackney Jobs Newsletter on the Hackney Works homepage to be kept informed about apprenticeships and other opportunities.
Read more about our apprenticeship programme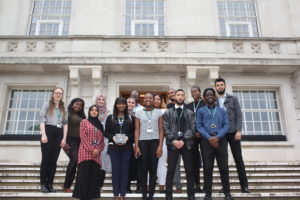 Apprenticeships with Local Employers
Our Hackney Works team can support you to find and apply for apprenticeships with local employers in sectors like Construction, Digital, Hospitality, and Creative.
See apprenticeship roles available with local employers
For employers: find out about the Hackney Apprenticeship Network