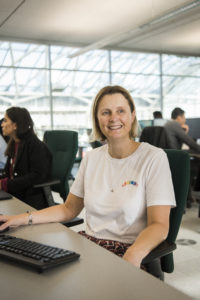 We expect staff to take charge of their personal development. Hackney Council offers a wide range of training and development opportunities. As well as a variety of courses and workshops, staff can also get qualified on Hackney Council with a range of paid for career development qualifications.
We also provide peer-to-peer coaching, mentoring and bespoke opportunities to develop your career. Our 'Let's Network, Hackney!' scheme gives staff an opportunity to meet others across the organisation. It's a simple concept that brings together two people from across the Council to chat with no targets, no boundaries –  just an opportunity to hear about other services' work and to make new connections.
Once you're on board, your manager will meet with you regularly to 'Check In' and discuss your personal development and goals.
Health and wellbeing
We also value health and wellbeing: we offer staff only fitness classes for just £3 per session, including yoga, pilates and HIIT training, as well as express massage and Alexander Technique sessions over lunchtime. We've also introduced mindfulness workshops and hold an annual Health and Wellbeing Fair just for staff.
We have a thriving health and wellbeing champions network who make a lot of this healthy stuff happen, which you'd be welcome to join.
You can also take advantage of subsidised gym and pool membership with Better.
We love our cyclists! We have a variety of schemes to get you on the saddle including cycling lessons, pool bikes and discounted bikes and equipment through Cyclescheme.
We offer a free, over-the-phone independent counselling and advice service for all staff, and encourage a healthy work-life balance.