Follow our blog to get the latest updates straight from our apprentices about the work they do everyday.
Apprenticeship Awards and Graduation Ceremony 2020
To recognise National Apprenticeship Week the council celebrated with an award and graduation ceremony to acknowledge the contribution of apprentices, managers and businesses that have made the programme the success it is today.
National Apprenticeship Week, which ran from 3 to 7 February 2020, is not only an opportunity to highlight the fantastic work that apprentices do but also a chance to show the benefit for individuals, businesses and the local economy.
The Council currently employs around 100 apprentices across a range of service areas including, customer services, social care, and housing. Whilst the council also has 20 apprentices as part of the London Office of Technology and Innovation programme, the highest of any London borough.
On Wednesday 5 February, Hackney Town Hall Assembly Halls welcomed Apprentices and their managers to the awards and graduation ceremony for an afternoon and evening of recognising the emerging talent and those who provide tremendous support.
Congratulations to the winners:
Hackney Apprenticeship Network Employer of the Year
Morgan Sindall
Assessor of the Year
Della King – UCAN
Manager of the Year
Susan McFarland-Lyons, ICT
Apprentice Rising Star Award
Sam Clare, Service Support Apprentice ICT
Apprentice Recognition Award
Bryce Bacon, Commercial Gas Apprentice, Neighbourhoods and Housing
Apprentice Champion Award
Cleo Lewis, Customer Service Advisor, Neighbourhoods and Housing
Special Recognition Award
Bulent Mustafa, Enforcement Officer, Neighbourhoods and Housing.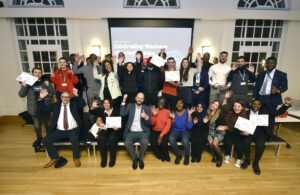 Cllr Carole Williams, Cabinet Member for Employment, Skills and Human Resources said: "I am proud of the council's multi-award-winning apprenticeship scheme, and National Apprenticeship Week is the perfect opportunity to showcase the achievements of apprentices, managers and businesses. Hackney's apprenticeship programme has been a key factor in increasing the number of Hackney residents applying to work for the council. I welcome the support the council is giving to local businesses so they too can offer quality apprenticeship opportunities so they gain the same benefits and, in the process, help Hackney residents develop the skills and experience employers are looking for."
Hackney Apprenticeships are open to anyone who lives in Hackney, went to a Hackney school or college or if you are receiving or have received Hackney leaving care services. The deadline for current apprenticeship vacancies is Sunday 1 March, apply here: hackneyworks.hackney.gov.uk/opportunities
To find out more and find current vacancies visit: hackneyworks.hackney.gov.uk/apprenticeships
To learn more about the Hackney Apprentice Network contact: apprenticeships@hackney.gov.uk
Apprenticeship Profile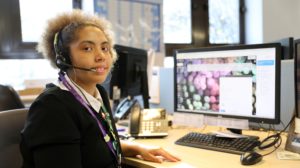 Personal profile:
Name: Cléo Lewis
Apprenticeship title: Customer Service Agent Apprentice 
Directorate/Team: Neighbourhoods and Housing (Contact Centre) 
Background:
After I finished my A-Levels, I wasn't sure about what I wanted to do. I secured a place at Winchester University to study Media and Production, but I deferred my place for a year. During the summer after my A-Levels, I started an apprenticeship with Greggs in Food Retail. The experience was amazing, not only did I have access to good food, but my customer service skills developed and I became a team leader as part of the course, which helped to build my management experience. I decided I wasn't going to Winchester, as media was not my calling, customer service was. After two  years, I started working for Metro Bank as a cashier. This had pros and cons, pros being meeting new people, understanding the banking world and cons being that this particular bank was open 7 days a week. I left Metro after a year as I got pregnant with my now one year old daughter Keliylah and wanted time away from the working world during my pregnancy. I was definitely keen to get back to working once Keliylah was around 9 Months old and found the Hackney Apprenticeship in Customer Services. I couldn't think of a better place for me to work. Not only is it based locally, but it was in the career I wanted to pursue. Once I applied, I was invited to the screening day and finally the interview. My new manager contacted me in the afternoon on the same day I passed my driving test to tell me I was successful, this was a pretty great start to the new year.
Day to day:
I start work at 9am after the nursery run. I get in at about 8:30am, just enough time for some breakfast and a cuppa. In the Contact Centre, we have an agent system that we log onto which allows the residents called to be passed through to us. At 9.01am the first call of the day comes through, this could be a call regarding rent, leaseholder queries or even to report a repair. Working in the Hackney Neighbourhood Contact Centre has allowed me to liaise with many different departments. The advantage of this is that I can gain an insight into what the relevant departments specialise in and therefore build on my knowledge of the council.  
One day a week which equates to 20%  of my working week is dedicated to the theoretical side of the apprenticeship. I don't need to go to a college, but I can spend time away from my desk at the library or any other quiet space to allow me to do my coursework. Once a month my assessor comes to Hackney to discuss my progress, carry out observations and find out if I need any additional support.

I also use this time to be practical in self development. This could be booking onto training courses, which has allowed me to become a qualified first aider, learn administration within the contact centre such as sending mail and making sure we have relevant, up to date packs for us to send out. The 20% time has really helped me to develop in my role and has given me advantages I may not have had being an apprentice.  
Why this role?
Customer service is something I have always been passionate about. From when I started my first role at Greggs, whether it was resolving a customer complaint or receiving feedback, I really enjoyed working with customers. I saw the customer service role at Hackney as a great opportunity where I can use the problem solving skills that had been developed from my time at Metro Bank and being able to multitask (as that is a must in motherhood), I knew this was the role for me.  
What is the best thing about the apprenticeship?
For me, the best thing by far is the colleagues I have. When starting a new job it's always nerve racking, but the contact centre team made me feel so welcome. When it came to training, every one played a part in teaching me without hesitation. I feel this is the reason I am confident in my role now, because I learned from everyone in my team rather than a screen and one person. Being an apprentice has its advantages, not just the qualification at the end or being a part of the public sector, but things such as, networking events, development days and award ceremonies. This year I am lucky enough to be co-hosting the apprenticeship awards 2020 and I am really looking forward to it. 
Hackney Council as a learning environment?
I love Hackney, not just as a work place but as my home town. As Hackney changes and grows I feel all my surroundings are a learning environment. Being an apprentice at Hackney Council is great, everyone is so supportive and really encouraging. No matter what department you are in, we all receive updates on what's going on within the council. I find this really useful so we can see how different changes may impact our department. I really like how multicultural Hackney is. During my time here, I have been to Black History Month events, seen the Hanukkah candles and the beautiful lights at christmas. Hackney is definitely a place for everyone!
Next steps:
Now that I have completed the apprenticeship, I look forward to exploring new opportunities that may arise. In October this year, I look forward to doing the level 5 apprenticeship in management which will further develop my skills and career goals. 
Apprenticeship Profile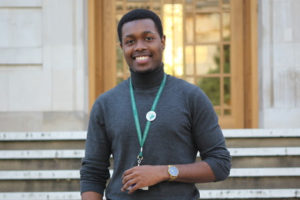 Personal Profile:
Name: Micah J Etienne
Apprenticeship title: Application support Apprentice
Directorate/Team: Application Management (Social care)
Background:
After I finished my A-Levels, always being interested in Media and technology I was leaning towards the route of university and studying digital design, but my career adviser gave me another option to think about, which was an apprenticeship. Being given the pros and cons of both options, I made the choice to do an apprenticeship where I was able to gain the skill and knowledge of digital design and marketing whilst earning. I was working for MyVoucherCodes for two and a half years and loved my work for the most part, however, I felt I needed a change of challenges  and opportunities in order to keep growing. I saw an advert for apprentice opportunities in Hackney Council and thought that an IT role was something that was just right for me as well as being able to contribute to the development of my borough. After applying and going through a nerve-racking interview, I got the job as an Application Support Apprentice. I am still happily working with the same team. 
Day to day:
My day typically starts at 9:00am with me being on hand to keep the applications that a large portion of the council operate, working as it should be and to fix any issues that users may have. Since starting at Hackney Council I have been privileged enough to work with so many teams on different projects and tasks. It was important for my manager and myself to make sure that I have a holistic view when doing my job, so being exposed to different environments and people has allowed me to fulfill my work an effective way, that not only made me but also the people I work with, happy. One of the projects I was involved with was pushing Single Sign-On (SSO) for the council. This involved me conducting research, volunteer testing for the SSO functions, organising meetings and bi-weekly show and tell presentations to involve and inform as many colleagues in the project. Projects such as that one have given me the necessary skills to carry out my work confidently as well as giving me more opportunities for other projects in the future. One day a week (20%) of my time at work is dedicated to the college side of the apprenticeship which saw me go to college once a month to meet with my assessor and use the remainder of the Thursdays for self development. This included collecting evidence related to my role and exams that tested my skills acquired at work. Having a day away from work to focus on my skills really helped me to work on my organisation skills and keep my enthusiasm to learn something new.  
Why this role?
IT is something I've had a growing interest in so when I saw this role when looking through the apprenticeships, it stood out to me amongst the rest. I had some basic skills in IT, but really wanted to expand that knowledge and make a career out of it. I get a lot of joy by helping people, so this specific role was especially appealing to me when deciding which one I would apply for. Knowing that getting a qualification is important when it comes to this field of work, I knew how essential it was for me to do an apprenticeship in IT, helping me to be work ready after getting the qualification. 
What is the best thing about the apprenticeship?
I think for me, the best thing has been being able to experience so many different things. I was able to visit other companies like Amazon to gain insight on how their apprenticeship scheme is operated, as well as being able to network with other employers/employees alike. I was able to co-host the Annual Apprenticeship awards which was an amazing evening. I love the freedom I have been given to go and get involved in talks with Cllr Williams in helping to open the way for other businesses to adopt the apprenticeship scheme, working with other teams and probably the best part, being able to catch up with other apprentices and being around people in the same situation as myself. It's been a lot of fun.     
Hackney Council as a learning environment?
It has been fantastic for me being an apprentice at Hackney Council. I didn't know what to expect, but what I was given was far beyond my expectations. Everyone was so welcoming and helped me with any issues I had, as well as having a wonderful support system with the apprenticeship team. To be in Hackney Council is to learn everyday. There hasn't been a moment I haven't learned something, whether that be directly related to my role, or the plans for the future of the borough. My manager has continually pushed me to keep learning and push myself to be better each day and has regular checks ins with me, which I greatly appreciate.
Next steps:
Now that I have completed the apprenticeship, I have more time to collaborate with other teams for more projects and find new ways to keep Hackney developing for the future. I am looking forward to continuing to pursue a career in IT and hopefully do this with Hackney or another organisation, possibly within a different sector, such as delivery.   
Apprenticeship Profile: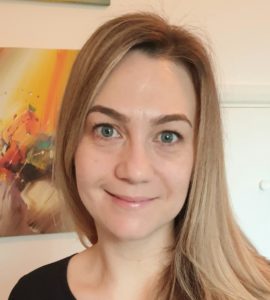 Personal profile:
Name: Sarah Slade
Apprenticeship title: Project Management Apprentice
Directorate/Team: Parking and Markets service
Background:
After I completed my A- levels I was unsure what I wanted to do for a career and had a few jobs mostly in administrative roles where I realised that I was very organised and was able to coordinate multiple tasks successfully. For the past 10 years I have been working within the NHS and my last position was as a clinical coordinator for a GP practice. In this role I had some experience at working on small projects and this is when I realised that I wanted to pursue this more in the future. When I saw the job advert to be a project management apprentice in Hackney I knew that this was the perfect opportunity for me. The role was part time which was perfect as I have a young family but also allowed me to gain a qualification whilst working and earning. I applied, and after attending an assessment day and interview, I got the job as a Project Management Apprentice. I now work within the policy team for the Parking and Markets Services.
Day to day:
My typical day starts at 9.30am at the office and each day varies greatly depending on what projects and tasks I am working on. I work within a team of 5 and we all work very closely together and support each other. As a team we follow our individual and shared tasks on the groups trello board and also follow the progression of projects on gantt charts which list important deadlines. Since starting, my tasks have included supporting other team members but also tasks for which I have complete responsibility for. I have been involved with planning ad campaigns, benchmarking strategies and working on upcoming public consultations. The work is always varied and covers a wide range of skills necessary for project management. 20% of my work time is set aside for apprenticeship related work such as writing reports and collecting evidence. I usually work out at the beginning of the week when I will do this as I can see where there is space in my diary for studying. It really helps to have this time blocked out of the diary so I know that it is protected time. My work day usually ends at 3pm which means that I can be home in time to pick my children up from school.
Why this role?
I feel like my previous experience has given me a good idea of what my skills are and what role would suit me. I have always been good at organising and planning and have ended up doing this in most of my previous roles. I wanted to build on these skills but also learn the other necessary requirements for working on projects. Without direct experience at working on projects in the past, I knew that it would be difficult to get a job in this field. I had never considered an apprenticeship before because I always had the belief that they were for school leavers but upon applying and getting this position I have realised that this is not the case. My apprenticeship is a level 4, which means that I am not starting from scratch and can use my existing experience and skills. Upon completing my apprenticeship I will be accredited by a recognised body for project management associates and have experience of working on projects for a large London borough.
What is the best thing about this Apprenticeship?
The best thing about my role so far is the variety of my work and the different projects that I have been involved with. Having many projects to work on at the same time means that each day is different and work is always interesting.
Hackney Council as a learning environment:
The apprenticeship for me has been a great opportunity to work and gain experience in a field that I was new to. The apprentice team are always available to help and support you should you need it and there are also many opportunities to get involved with other activities and network within the council. What I really like about Hackney council is that as an employer they always want to help staff to develop their skills and offer so much guidance, training and support. Since I started I have taken many free courses that are available to staff including report writing and project management essentials. My managers actively encourage me to keep learning and developing myself and all Hackney staff have regular check ins with their managers to work on their personal development.
Next steps:
Now that I have had the chance to work on projects for the council it has strengthened my desire to continue doing this in the future. I really enjoy being able to work on projects that can change the environment for the better and have an impact on people's lives. When I have completed my apprenticeship I will look for roles where I can continue to do this work, hopefully within Hackney or another London borough but possibly within other sectors such as transport.
Apprenticeship Profile: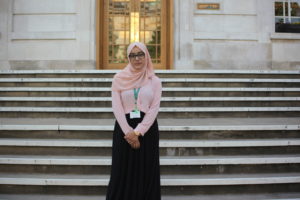 Name: Humairaa Mulla
Apprenticeship Title: Software Developer
Directorate/Team: ICT
Background:
I completed A-level Maths, ICT and Health and Social Care in 2018.  I then did a placement on the Hackney 100 scheme during the summer holidays with the Strategic Property Services department which was an amazing experience as I got to learn how to use software such as Cedar. Cedar is an application used to track residents yearly rent and allow us to send tenants invoice via email or post. I was also required to talk to residents over the phone to ensure that their rent accounts were up to date. This helped build my communication and confidence skills. I then decided to apply for the software developer apprenticeship and after the interview the team welcomed me to a new world which is challenging and exciting at the same time. 
Day to day:
I am currently working on LanDesk Calls assigned to my team, LanDesk incidents and requests raised by users in the LBH, these calls are solved through user-visit or telephone conversation. For example, if the user is facing a problem with one of the HR e-forms, I then call the user to ensure they are accessing the form in the correct manner, this can be done through remote access or visiting the user and providing the help required.
I have also worked on a HR Project which involved making improvements to the form. The form I am currently making improvements to is a Post and Payroll form. This involves complex calculation changes and ensuring the form works as required by the user. I am currently working on this form on the development environment, this allows me to play around with the Javascript Code and also ensure the form works as required before making it live. When I make a change on the development environment, I ask various users to test the form and ensure it is correct, this helps to keep the user happy whilst also making it clear to me what has been completed and what needs to be completed.  
In order to plan my tasks, I use my calendar as well as the Trello board. In Trello I have different tasks which I need to complete and once they are complete I move it along to testing and if it has been completed correctly then the user would move it to done. I have added a picture below to show an example of one of my trello board: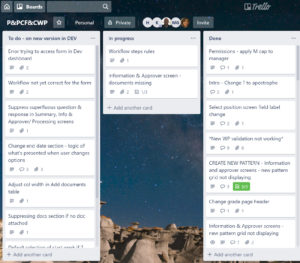 College time:
I attend work for eight consecutive weeks, then go to college for one week, during my time at college I am taught one module and also get time to work on the coursework/exam for the module. This is very helpful for me as I prefer to work on my coursework whilst at college as I can get the help I need from the lecturers. I can also book time with lectures during my time at work to get help on my coursework, this allows me to use my time wisely and ensure that I get my coursework submitted and meet the project deadlines on time. 
What is the best thing about the apprenticeship?
I really like this apprenticeship as I am able to learn modules at college and then apply the knowledge to one of my projects at work. I really enjoy the fact that once I finish my apprenticeship I will receive qualifications and also get the experience I need for this job. This apprenticeship has also helped to improve my technical skills by teaching others.
Next Steps:
Once my apprenticeship ends I am planning on getting a full time job in one of the ICT departments, I first want to explore the other departments as I have not experienced those departments, I will then decide which job I want to apply for and hopefully get a full time job within the Council.