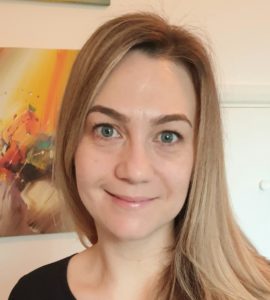 Name: Sarah Slade
Apprenticeship title: Project Management Apprentice
Directorate/Team: Parking and Markets service
BACKGROUND:
After I completed my A- levels I was unsure what I wanted to do for a career and had a few jobs mostly in administrative roles where I realised that I was very organised and was able to coordinate multiple tasks successfully. For the past 10 years I have been working within the NHS and my last position was as a clinical coordinator for a GP practice. In this role I had some experience at working on small projects and this is when I realised that I wanted to pursue this more in the future. When I saw the job advert to be a project management  apprentice in Hackney I knew that this was the perfect opportunity for me. The role was part time which was perfect as I have a young family but also allowed me to gain a qualification whilst working and earning. I applied, and after attending an assessment day and interview, I got the job as a Project Management Apprentice. I now work within the policy team for the Parking and Markets Services.
DAY TO DAY:
My typical day starts at 9.30am at the office and each day varies greatly depending on what projects and tasks I am working on. I work within a team of 5 and we all work very closely together and support each other. As a team we follow our individual and shared tasks on the groups trello board and also follow the progression of projects on gantt charts which list important deadlines. Since starting, my tasks have included supporting other team members but also tasks for which I have complete responsibility for. I have been involved with planning ad campaigns, benchmarking strategies and working on upcoming public consultations. The work is always varied and covers a wide range of skills necessary for project management. 20% of my work time is set aside for apprenticeship related work such as writing reports and collecting evidence. I usually work out at the beginning of the week when I will do this as I can see where there is space in my diary for studying. It really helps to have this time blocked out of the diary so I know that it is protected time.  My work day usually ends at 3pm which means that I can be home in time to pick my children up from school.
WHY THIS ROLE?
I feel like my previous experience has given me a good idea of what my skills are and what role would suit me. I have always been good at organising and planning and have ended up doing this in most of my previous roles. I wanted to build on these skills but also learn the other necessary requirements for working on projects. Without direct experience at working on projects in the past, I knew that it would be difficult to get a job in this field. I had never considered an apprenticeship before because I always had the belief that they were for school leavers but upon applying and getting this position I have realised that this is not the case. My apprenticeship is a level 4, which means that I am not starting from scratch and can use my existing experience and skills. Upon completing my apprenticeship I will be accredited by a recognised body for project management associates and have experience of working on projects for a large London borough. 
WHAT IS THE BEST THING ABOUT THE APPRENTICESHIP?
The best thing about my role so far is the variety of my work and the different projects that I have been involved with. Having many projects to work on at the same time means that each day is different and work is always interesting. 
HACKNEY COUNCIL AS A LEARNING ENVIRONMENT:
The apprenticeship for me has been a great opportunity to work and gain experience in a field that I was new to. The apprentice team are always available to help and support you should you need it and there are also many opportunities to get involved with other activities and network within the council. What I really like about Hackney council is that as an employer they always want to help staff to develop their skills and offer so much guidance, training and support. Since I started I have taken many free courses that are available to staff including report writing and project management essentials.  My managers actively encourage me to keep learning and developing myself and all Hackney staff have regular check ins with their managers to work on their personal development. 
NEXT STEPS:
Now that I have had the chance to work on projects for the council it has strengthened my desire to continue doing this in the future. I really enjoy being able to work on projects that can change the environment for the better and have an impact on people's lives. When I have completed my apprenticeship I will look for roles where I can continue to do this work, hopefully within Hackney or another London borough but possibly within other sectors such as transport.