You can become an MT either by applying to the The National Graduate Development Programme (NGDP)

or the Hackney Management Apprenticeship Scheme (HMA)

The NGDP

is a nationally run recruitment  campaign by the Local Government Association which seeks to create a talent Pool of high calibre graduates (minimum of 2.2 undergraduate degree required) for councils around the country to recruit from. Hackney Council currently recruit 4 MT's through the NGDP programme. 

The

HMA

recruit directly through our internal Employment Pathways team

Both NGDP and HMA participants carry out almost identical 2 year plans however there are some differences
Please see the table below which clearly outlines the differences between the two schemes. Applicants that aren't successful at applying for the NGDP (local or national) can still apply for the apprentice scheme.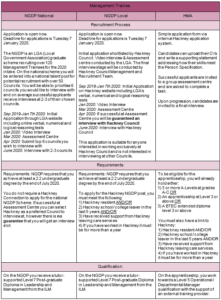 Links
National Graduate Development Programme
Opportunities through Hackney Works