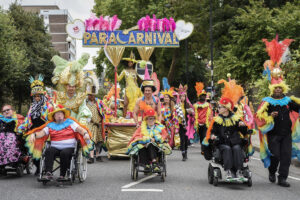 The Local Government Association rated Hackney Council as excellent for our work on equality. A group of peer-reviewers, made up of officers from other Councils and LGA staff re-accredited the Council with the highest level, 'Excellent', under the Equality Framework for Local Government (EFLG).
EFLG looks for performance in five areas:
Leadership, partnership and organisational commitment
Involving our communities
Responsive services and customer care
A skilled and committed workforce.
As an organisation we had a lot of strengths, and the Assessors were particularly impressed by:
The quality of our data and the way we use this to inform decisions about services and resource allocations;
The strong commitment to equality from councillors and senior managers. They felt equality was embedded in the Council's work;
Our commitment to involving and informing our communities through events and publications like Hackney Today;
Initiatives like Contextual Safeguarding show we are aware of the challenges we face and are always looking for ways to improve what we do;
Our efforts to improve opportunities e.g. through apprenticeships and our genuine interest in staff wellbeing.
Chief Executive, Tim Shields said:
"I am immensely proud of the Council's genuine commitment to equality, and this is demonstrated by the meaningful work our officers do within the Council, out with the community and in partnership with other organisations. This is particularly challenging in a diverse borough like Hackney, where we face many challenges to ensure the borough is inclusive and protects the most vulnerable. We will now continue to look at where we can improve further, and I look forward to the Assessors' detailed report following the initial feedback and re-accreditation we've received."