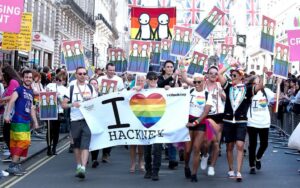 Hackney Council works to eradicate discrimination on the basis of race, religion, gender, gender identity, sexual orientation, disability, pregnancy and maternity, age and marital status. We also recognise that people can be disadvantaged by their social and economic circumstances, so we will also work to eliminate discrimination and disadvantage caused by social class.
We were delighted to be rated as Excellent under the latest Equality Framework for Local Government. This award involved being assessed by peers from other councils and the Local Government Association.
The assessors were impressed by the way equality is embedded in our work. We were praised for our commitment to involving our communities through events and publications. We were also commended on our work to pioneer apprenticeships and through Hackney Works to improve support and opportunities for those finding it difficult getting work, as well as our genuine passion for staff wellbeing.
Our Policy team provides networking and support for disabled staff, and an opportunity to actively contribute to our policies to help us work towards best practice. Our staff have offered a range of advice on physical access, reasonable adjustments in the workplace and best use of IT. The group is there for anyone working for the Council – whether you are part-time, temporary or agency.
We are also a member of the Stonewall Diversity Champions programme, a leading employers' programme for ensuring all LGBT staff are accepted without exception in the workplace.
Proud Hackney provides an opportunity for LGBT staff at all grades and backgrounds to identify issues concerning their experiences as employees. Proud Hackney are consulted on for a range of issues across the Council and play an important part in helping promote equality. Read more about our LGBTQI+ festival.
Transgender staff
We have a policy which sets out the Council's approach to supporting transgender and gender non-conforming employees. It guides employees and managers on some of the issues that promote equality at work.