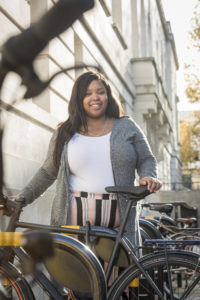 Wherever possible, Hackney staff take sustainable transport to work and during their working day – and the Council helps them do that. Here's some of our staff testing out what's the quickest way to Millfields Depot.
Season ticket loan
All permanent and fixed-term Council employees can apply for an interest free season ticket loan.
Travel expenses
You may be able to claim mileage or fares for work-related use of bicycles or public transport.
Cycle loans and discounts
If you need a bike or need an upgrade Hackney is a member of Cyclescheme which can save you at least 25% on a bike for work. Already got a bike? You can get accessory only packages, too
You choose a bike from an approved supplier and the Council buys it and loans it to you. You then take a 'salary sacrifice' in return for the loan of the bike across a year.
Although the bike is loaned to you, you are free to use it in your own time. You can also choose bicycle equipment (such as lights, a helmet or a rain jacket) to make the journey to work safer and more comfortable. The maximum amount available including both bike and equipment is £1,000
The deduction is made from your gross salary, which means you save on tax and National Insurance. Payments are spread over a 12-month period for your convenience.
Cycle training
Whether you're a first-time rider or a regular cyclist looking to improve your skills, the Council funds free, tailored courses to suit your individual abilities and goals. If you want to try cycling, you can also borrow a bike from the Council's Sustainable Transport team for two weeks for free.
Cycle parking
Hackney Service Centre

– 216 cycle parking spaces for staff and customers

Christopher Addison House

– 26 cycle parking spaces in the mews area.

Hackney Town Hall

– cycle parking is available outside the entrance to the Town Hall.

Millfields Waste Depot

– 20 cycle parking spaces available in the secure area.